Translate
---
Software Tools
(main page)
Resource-Grabber
(glyphs,icons,..)
PieceCopy
PieceCopy v1.2
---
A short description:
PieceCopy is a tiny tool which will extract a portion of a specific file.
You can use it to extract data of files, to cut file headers, to retrieve binary data of a specific position, to rescue parts of damaged files/disks or whatever.
---

Download PieceCopy:

Filename: PieceCopy.EXE (self-installing executable)


File size: 240 k
Last update: Apr 23, 2001
Find the "ideal" download location by doing a FTP search: the latest versions of PieceCopy should be listed at the top.
---
Freeware.
This program is Freeware which means that no money is charged for it - feel free to use it on as many computers you want.
Interested, registered users of one of my other tools may ask me for the Delphi source code of this program.
---
Screenshots
Here is a screenshot of PieceCopy.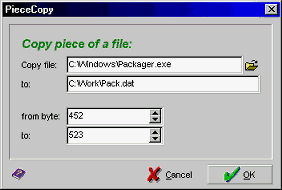 ---