Translate
---
Software Tools
(main page)
Resource-Grabber

Resource-Grabber v2.68d

One of the biggest hour-savers for developers...

---

German version deutschsprachige Version dieses Texts verfügbar!
---
"Grab" all sorts of images, sounds and other resources from
the programs on your PC and Internet Newsgroups!
The Resource-Grabber will scan the directories and drives on your computer and extract all Bitmaps, Button images ("Glyphs"), Icons, Cursors, JPG/JPEG images, sound files, video clips, animations, form images, webpages, text and other stuff it finds inside the programs and DLL files in any directory of your choice.
Forget painting all that stuff by yourself; forget hours of searching for Windows-compatible button layouts ... simply use the images that are already on your computer! (well-hidden, of course)..
The Resource-Grabber will extract thousands of them for you from their "hidden" locations inside DLL and EXE files at enormous speed and gives you full access by saving them as regular image/sound/video/.. files for you. And the NEW embedded "Newsgroup Grabber" will finally also allow scanning Internet Newsgroups for images, videos and sounds, too! See the screenshots below for a first impression.
This program is highly popular amongst developers because it saves so many hours.. just try it out by yourself!
Latest feature-additions include:


doesn't only scan 32 bit files (as clones do) but also 16 bit files and libraries for contents -> about 50% more images, sounds,.. than ever before!


the integrated Resource-Browser allows you to analyze and browse individual files for the "hidden" content inside them and to extract it in re-useable file formats


quickly re-scan files and directories


supports detection and extraction of many additional file formats, such as
HTML files
Cascading Style Sheets
GlF images
RichText (RTF) files
Batch files
plain text files
Executable files (COM, EXE, BAT)
dynamic libraries (TLB,..)
all generic animations and video clips (AVI, MPEG, VIV,..)
all generic sound file formats (Wave, MP3, Real Audio,..)
menu definitions
fonts
embedded Strings and messages
and more (please see help file)

better support for Cursor image extraction


better support for icon extraction and conversion


supports converting embedded binary dialog resources (forms, dialogs) to Bitmap- or JPEG-screendumps to allow "real world" display and analysis, program documentations etc.!


found strings can now be saved including their numeric resource ID


the NEW Newsgroup Grabber, a newsgroup image collector, now allows you to automatically scan predefined Internet newsgroups for binary files like GlF, JPEG, MPG and other files .. download 1000s of nice images while you're sleeping! - CHECK IT OUT! [Screenshot]


runs under all Windows 9x and Windows NT/2000 versions


allows to automatically convert icons to bitmaps


optionally creates "disabled" looking copies of your images


extracts forms ("windows")


many integrated conversion features (create bitmap button images from icons and cursors, "disabled" looking images and buttons, 3D-like buttons and more)
---
The Resource-Grabber was the first 'ripping' program worldwide, and is regularly enhanced with useful and innovative features you won't find anywhere else. Well, it's made by developers - for you, other developers, and the awards it has received during the years underline its difference to other products that just try to copy the ideas we have put into it... ;-)
"Top Pick" / "Editor's Pick" at Download.com
(belongs to their selection of the best available Developers software) !

Hot Shareware Tip at PC World

"pop" at C|Net's Download.com (belongs to most popular software) ! (Aug'98)

4 cows rating at Tucows.com (07/99)!

"Featured Software" at C|Net's Download.com, 09/98 and 11/98


Software-Tip 02/99


"top" and "Editor's Pick" at Softseek.com
(belongs to most popular programming software) ! (Aug'98)
---
Filename: ResGrabr.EXE (self-installing executable)


File size: 1 MB
Last update: 02-Aug-02
Find the "ideal" download location by doing a FTP search: the latest versions of ResGrabr.* should be listed at the top.
---
The evaluation version of the Resource-Grabber is limited to extract 8-12 images per scanned directory. Supporting this program with just $25.00 (or € 25,- or SFR 39,-) *) will give you a totally unrestricted version of Resource-Grabber - usually extracting more than 5000 high-quality images from a typical harddisk !!
*) prices valid when sent in cash by regular mail, otherwise $29,- (€ 29,-)
There are various ways of registering:
Just click on the animation to the left (or here if you want lifelong upgrades) and fill out your registration form which also contains a rebate list for multi user licenses. Online registration is processed by Regsoft.com, a US company located in Atlanta, because our other customers always liked their fast and reliable service.
by REGULAR MAIL - simply send your registration fee by postal mail to the address listed in the helpfile. Since we will then receive the full fee without registration service commission, we can offer you an additional discount (see above) if you are using this method! Don't worry about sending cash in the mail, just fold it into a sheet of paper so that you can't see the money through the envelope. Please add $4,- if you need the software on a floppy disk by regular mail.
by CHECK - just print out the FAX form and mail it along with a check in US Dollars to: RegSoft Check Processing Dept., 9625 West 76th Street, Suite 150, Eden Prairie, MN 55344 USA (not to us directly!).
by PHONE - click here (standard) or here (with lifelong upgrades) to find out about the secure way to register by phone, via toll-free call.
by FAX - print out the registration form and FAX it to the number 1.800.886.6030 (Toll-Free, US & Canada only), +1 208.279-3837 (International) or (0870)132.248 (United Kingdom).
by EMAIL - email the information directly to Registrations@RegSoft.com.
Please don't forget to add the following amount to your registration fee:
+$ 5.00 if you need the software on a floppy disk by regular mail
-$ 4.00 (a discount!) if you send your registration fee by regular mail
The above listed fees are just to cover our own expenses. Please understand that we can't send you a registered version if you don't add these few bucks.

Under normal circumstances, you should receive your registration email 2-22 hours after your registration came in! (please contact us if you waited longer).
---
| | |
| --- | --- |
| | You think that the Resource-Grabber might also be of interest for someone else you know? Tell a friend about this slick little tool, and automatically be entered in our contest to win a HotDownloads.com Shareware CD! Simply click the image to open the submission form. |
---
Here you can subscribe to the Resource-Grabber mailing list, where we will provide you with latest information about upgrades and other topics concerning this program.
Just click here to subscribe (..don't worry: you won't receive more than 1 single mail every 2-5 weeks).
---

"My compliments on an excellent tool! I ran the demo and immediately bought it! I develop in Delphi, and going through directories, etc., is time-consuming and an energy drain. Resource-Grabber kills both those problems."
(Wayne McKittrick, Houston, USA)

"During the last days I tried a lot of different programs to grab icons, and as soon I saw your I went online to buy it: very, very very great! It was exactly what I need."
(Gregorio Loppi, Italy)

"I have just run the registered version - took over half an hour, but gave me 9378 images!! Very impressing, this tool is definitely worth the money! Keep up the good work!"
(Jason Barnes, Sydney, AU)

"Resource Grabber is truly one of the best utilities programs. This is the first time in all the long years I'm using the computer, that I can always find all my clipart handy & ready for use."
(Arik Amit, Israel)

"This is a really great utility. It's amazing what a wealth of icons and bitmaps remain hidden on everyone's disk!"
(Clark Farabaugh, Virginia Beach, USA)

"I did register ResGrabber, and I love it.
My programming language allows for great potential to integrate icons and images, yet like most people I lack any significant ability to render my own images from scratch. This product has helped me integrate icons and images for those final finishing touches that makes a good program great.
(Nicholas Z., Nevada, USA)
Finally, here's a detailled Review by Quality-Shareware.com.
---
We are highly interested in your thoughts and suggestions since keeping in touch with you, the developers, has made this program into what it is today.
Please tell us your ideas for features you'd like to see, for improvements which could make using the Resource-Grabber even easier, about problems/bugs you found or if you simply have questions regarding the current program version or the purchase of the full-featured version.

-> Resource-Grabber Discussion
---
Here is a screenshot of Resource-Grabber during a typical scanning process: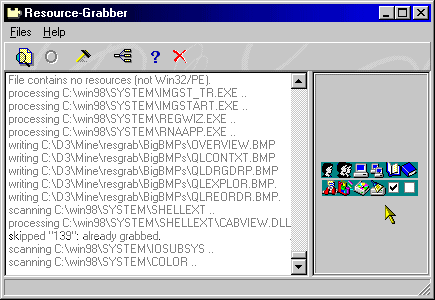 ..and here is a shot of the Newsgroup Grabber feature: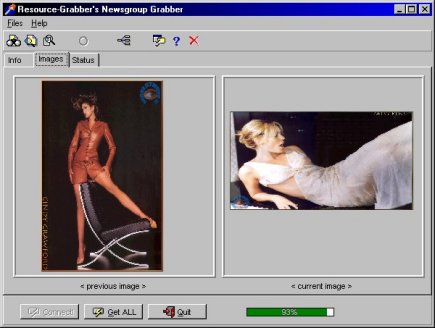 ---